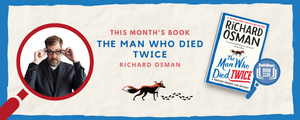 Richard Osman cracked the crime genre with his first novel, selling over a million copies – but not all the critics were happy…
I've caught Richard Osman in a lie ("Awkward," he admits) and, just for a moment, I feel like a member of his Thursday Murder Club. The Club – in case you're one of the few remaining people in Britain not to have read the Pointless presenter's first crime novel, which has sold more than a million copies – is a quartet of 70-somethings at a Kent retirement home who solve cold cases for fun… until fresh murders start dropping on their doorstep.
Osman's untruth concerns the secret identity of the Club's real-life inspiration. He's previously claimed to have got the idea after visiting a friend's mum at her old people's home – but under intensive interrogation from Radio Times ("Why would you visit someone else's mother?") he admits his deception: "OK, it was actually my mum. I've been drawn into my own subterfuge. The truth is, I visit her all the time, and her retirement community reminds me of an Agatha Christie location: it's a beautiful little village in Sussex. But the people who live there have done extraordinary things with their lives – they're underestimated now, but they have these incredible skills and experience and wisdom, and that combination makes for the perfect detective." Could Mrs Osman and her pals really crack a case then? "Could four very intelligent people solve a murder? Yes. Could they get away with everything that happens in the books? Probably not, but neither could Holmes or Poirot in theirs. The spirit of what happens here is true, though, because it's about new friendships in later life, making mischief, being overlooked and taking advantage of that, and about a last hurrah."
He makes retirement homes sound fun – does he believe that's true? "God, yeah. There's so much gossip, so many people, so much of a laugh. My mum is just surrounded by people: any time she wants, she can open the front door and she's got mates there; any time she wants, she can close it and watch Morse. It's like university but without the work. Honestly, I'm 50 now and in 15 years' time I want to be in one of those places." Right now he lives in south London with his partner – that 's another RT exclusive, as he's told previous interviewers he lives alone. "No, I'm actually very happily in a relationship, have been for ages. But you can't believe everything you read. I saw once, on my Wikipedia page, that I was Oprah Winfrey's nephew."
And what about reviews? Does he believe them? I point out a particularly stinging one for his new novel, The Man Who Died Twice, from fellow crime writer Joan Smith in The Sunday Times ("a novel so flawed that it is hard to believe it would ever have been published without a celebrity's name on the cover," she called it). "That did upset me," admits Osman. "It felt very personal, like it wasn't really a reflection on the book, but a vindictive attack on me. Success doesn't armour-plate you against feelings, and I do get upset by things." Other peers have been kinder, he says. There are several semi-secret societies of crime writers, each with their own sacred oaths and initiation rites – "and I've been very warmly welcomed," says the new boy. "They knew I wasn't some cynical interloper, that I was a real lover of crime fiction. So they've revealed all their secrets: the special handshakes, how to really murder people, all that stuff… "The lovely thing about books," continues the game-show-producer-turned-presenter-turned novelist, "is that writers aren't rivals. TV's much more cut-throat, because you've only got a few channels and limited slots. In telly, I've got rivals till the end of time. Pointless and The Chase have been rivals for 12 years."
In fact Osman only "gave up the day job" as a TV production executive last December. So is the brains behind House of Games, Eight out of Ten Cats and Deal or No Deal still fizzing with ideas for quizzes? "TV development is rarely sitting around the table talking about monkey tennis. It's spending three weeks scientifically testing a concept in every possible way – not just some people with beards and glasses saying, 'I know! How about Ben Fogle in a submarine?!'" He pauses. "Which, by the way, is a good idea." The viewer's loss, at least, is the reader's gain. The Man Who Died Twice is every bit as deliciously funny, warm and unputdownable as its prequel – and Osman has signed up for at least another two. "After that, we'll see. I don't want The Thursday Murder Club to become like Murder She Wrote, with coincidental homicides every five minutes. "I want every book to lead on from the previous one, so I'm just getting them into deeper and deeper water, and at some point they will run out of available oxygen. But not for a little while yet, I hope. And when they do, I might try to launch a new detective, maybe a whole new series. Who knows, perhaps it's DCI Fogle and his underwater detection agency…"
ED GRENBY
To receive this month's choice, The Man Who Died Twice by Richard Osman,  sign up to the RT Book Club by the 4 of October, on a monthly or quarterly subscription to suit your reading speed — and enjoy free delivery with your book sent gift-wrapped to your door.
To order The Man Who Died Twice for £17.50 including p&p without joining the RT Book Club, click here or call 03302 232 639*  
---