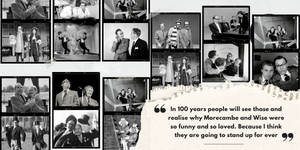 A new profile of the great Morecambe and Wise sheds sunshine on their comedy chemistry
The peak of British television light entertainment," declares Louis Barfe, "began at 8.55pm on Sunday 25 December 1977." And who would dare disagree with the author and expert on vintage British comedy?
The 1977 Morecambe and Wise Christmas Show – featuring Elton John, Angela Rippon, the cast of The Good Life and a host of heavyweight broadcasters dressed as sailors singing There Is Nothing like a Dame – encapsulates everything we still hold dear about Britain's greatest comic duo: their daftness, daring and deceptive guile. "Affectionate mockery was what they did best," says Barfe , author of Sunshine and Laughter: the Story of Morecambe and Wise. "They're comfortable but not cosy. There is a little spike, a little edge, about them."
Sunshine and Laughter is a fascinating account of the career of two men we feel we know so well. Ernest Wiseman started out in the 1930s in a double act with his father, before going solo. Around the same time, a bespectacled boy, born John Eric Bartholomew, accompanied by his formidable mother Sadie, was also making an impression as a junior member of the comedy circuit.
The pair first met as teenagers in 1940 and soon began working together. Back then, Wise was the taller and more successful of the two; in many ways, he would always remain the senior partner. "Ernie was the problem solver, the businessman, and incredibly easy-going," says Barfe. "Eric was the worrier." On screen, Wise was the sensible one and Morecambe was cast as an agent of chaos – but in reality, the reverse was true. "Ernie loved disruption, he was much more freewheeling," says Barfe. "Ernie would roll with it, whereas Eric liked things locked down tight."
It was Morecambe who got "terribly cold feet" over the legendary sketch with André Previn, from 1971, fearing that it was under-rehearsed. "They liked a whole week of rehearsal with their guest stars," says Barfe, who's also written biographies of Les Dawson and Ken Dodd. "Even Shirley Bassey would come along to the North Kensington Community Centre or the 'Acton Hilton' and spent a week quite happily just being around Eric and Ernie. Yes, it was work, but it was also tremendous fun. They were taskmasters but you wouldn't have missed it for the world."
Barfe's book makes clear the extent to which Eric and Ernie paid their dues. Their first BBC television series in 1954 was fairly disastrous, and it wasn't until the mid-60s that they found a way of working that put their personal chemistry centre stage. "It took [comedy writer] Eddie Braben and a flash of inspiration," says Barfe. "Partway through a meeting he said, 'Why aren't you like this on television? You two sitting here talking naturally is funnier than you are on television.' He said, 'If I can write stuff like this, we're on to a winner.'"
From that moment, Morecambe and Wise blossomed. Only the occasional shadow encroached on the sunshine. Though the pair made a number of successful appearances on The Ed Sullivan Show, Eric's commitment to his young family, as well as his first heart attack in 1968, put paid to any serious efforts to break America. A more lasting regret was their failure on the big screen: the duo made several films, but never managed to capture the magic they exuded on stage and television.
Throughout it all, there were no tiffs, no scandals. "They were good Northern boys!" says Barfe. Had Morecambe not died in 1984, 15 years before Wise, following a third heart attack, what might the future have held? "They were quite consciously slowing down. They had decided 1983 was going to be the last Christmas special. Eric was seeing the warning signs, health-wise, and wanted to take it easy, but he would have happily come out once a year to do something with Ernie. They could have done straight acting. They would have done panel games together. If Eric had lived and was well enough, wouldn't a Morecambe and Wise revival of 'The Sunshine Boys' have been perfect?"
Instead, almost 40 years later, they remain a beloved staple of the seasonal schedules. The key to their longevity, says Barfe, is the fact that there was "no dominant partner. No matter who led or who followed, they were completely in tune with each other. It was a Rolls-Royce of synchronisation. The Christmas specials of 1971, 1976 and 1977 are the three time capsules. In 100 years people will see those and realise why Morecambe and Wise were so funny and so loved. Because I think they are going to stand up for ever."
GRAEME THOMSON
To receive this month's choice, Sunshine and Laughter by Louis Barfe, for £21.50 (incl. p&p), sign up to the RT Book Club now on a monthly or quarterly subscription to suit your reading speed — and enjoy free delivery with your book sent gift-wrapped to your door.
To order Sunshine and Laughter for £21.50 including p&p without joining the RT Book Club, click here or call 03302 232 639*  
---