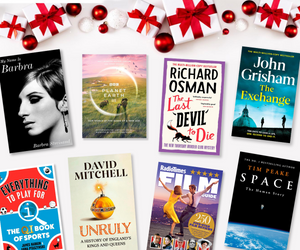 The Gift of Words: 10 books that belong on everybody's gift list...
Portable, personal and agreeably permanent — books make the best Christmas presents. Here are ten that belong on everybody's gift list...
SCIENCE AND NATURE
SPACE: THE HUMAN STORY
TIM PEAKE
Only 628 people have ever left Earth, so when one of them writes a book on the subject it's worth a look. "Major Tim", of course, has plenty of personal insight to offer — the physical and psychological pressures, the changed perspective on life, the danger, the humour and even the ennui — but he's also spoken to astronauts of all eras to make this a true survey of mankind's mission to the stars. And the pictures are amazing.
RT Shop price £19.50 incl p&p
BUY NOW
PLANET EARTH III
MATT BRANDON, MICHAEL GUNTON AND JONNY KEELING
The only thing more eye-wideningly incredible than watching whales breach or spirit bears hunt on David Attenborough's latest series? Getting to revel in that glorious imagery one gorgeous image at a time. The 250 rich-in-colour, rich-in-detail pictures in this book are the best way of doing that; and, similarly, reading the text allows some of the facts to sink in better than when watching on TV.
RT Shop price £25 incl p&p
BUY NOW
THRILLERS
THE EXCHANGE
JOHN GRISHAM
Remember The Firm? It's been 30 years since Grisham's global bestseller was published, but there was the small matter of a Tom Cruise movie version to keep this lawyer-for-the-Mob story fresh in your mind. And now, there's a sequel: Mitch McDeere is back — and entangled in a $100 million hostage situation with murderous Libyan terrorists. The plot is every bit as twisty-turny as readers have come to expect from Grisham; read it now and smugly tell friends you know what's going to happen when the movie is made.
RT Shop price £19.50 incl p&p
BUY NOW
THE LAST DEVIL TO DIE
RICHARD OSMAN
If you like your crime a little more local — set in the recognisable world of Ryman, Robert Dyas and Oliver Bonas, all name-checked in his Kent-based novels — turn to Richard Osman. There's a reason his gazillion-selling Thursday Murder Club novels have done so well: they combine clever plots with warm, rounded characters and a deliciously British sense of humour. This fourth instalment is pitched perfectly in the worlds of art and antiques forgers and their darker hinterland, and you really don't need to have read the previous three to enjoy it.
RT Shop price £19.50 incl p&p
BUY NOW
GREAT LIVES
MY NAME IS BARBRA
BARBRA STREISAND
Streisand's no flash-in-the-pan starlet: her six-decade career has seen her conquer the highest heights in the worlds of writing, directing, singing and acting. So no surprise that her memoir isn't the usual slim, self-congratulatory volume: instead we get a 992-page confessional of her life, loves, disappointments, diva moments and even near-miss at becoming romantically involved with Prince Charles. No punches go unpulled, no bullying leading men go unnamed, no opportunity for self-reflection goes untaken — and not a single page drags.
RT Shop price £28 incl p&p
BUY NOW
MAKING IT SO
PATRICK STEWART
There's no shortage of excellent anecdotes in Stewart's long-awaited autobiography – being upstaged by a priapic dog while performing Shakespeare, being "blanked" by Queen Elizabeth when she knighted him, borrowing Paul McCartney's car for a joy-ride to Bath — but there's a lot more to it than that. The actor started life in more-than-modest circumstances, raised by an alcoholic father in a one-up one-down house in West Yorkshire. And it's all here…
RT Shop £22.50 incl p&p
BUY NOW
STOCKING FILLERS
RADIO TIMES 5-STAR FILM GUIDE VOLUME 1
Getting RT's experts to agree on a whittled-down list of just 250 films — from the 1000-odd they've given five stars to over the years — wasn't always pretty. But the result is a definitive guide to the world's best movies, from 1902's Le Voyage dans la Lune to 2023's Oppenheimer, as well as all the information you need (where to stream or rent them), and plenty you don't (reviews come complete with trivia gems).
RT Shop price £9.99 incl p&p
BUY NOW
EVERYTHING TO PLAY FOR: THE QI BOOK OF SPORTS
JAMES HARKIN AND ANNA PTASZYNSKI 
Santa's elves aren't the only ones gearing up for Christmas; the QI elves have also been busy coming up with this ticklish compendium of sporting curiosities. From professional pillow-fighters to Premiership football and its sometimes highly creative terrace chants, some are snigger-out-loud funny, some head-shakingly bizarre, but none are dull. Look out for the stories on David Attenborough's involvement in the evolution of the tennis ball, and Michael Palin's disgrace at a conker championship.
RT Shop price £14.99 incl p&p
BUY NOW
HISTORY
UNRULY: A HISTORY OF ENGLAND'S KINGS AND QUEENS
DAVID MITCHELL
What do you get if you ask a comic to write a history book? A surprisingly good history book. Perhaps inevitably described as "Horrible Histories for grown-ups", this is a highly readable survey of our country's kings and queens from Arthur to Elizabeth, written by panel-show star Mitchell. Erudite, entertaining and the sort of work that will grace anyone's downstairs toilet.
RT Shop price £21 incl p&p
BUY NOW
SAS: FORGED IN HELL
DAMIEN LEWIS
For a secretive outfit operating in the shadows, the SAS has certainly spawned a lot of books — but this one tells the less-often-heard tale of the Regiment's early days during the Second World War. It's "against all odds" stuff, with the new force sent to punch through the enemy's coastal defences in advance of an Allied invasion in 1943. Writer Damien Lewis keeps things edge-of-the-seat, as usual — expect this book, like several of his others, to be snapped up by Hollywood soon.
RT Shop price £19.50 incl p&p
BOOK REVIEWS BY ED GRENBY
---