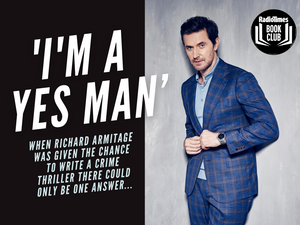 Richard Armitage is most famous for playing hobbits and spies — but when he was given the chance to write a crime thriller there could only be one answer...
Ooh," coos Richard Armitage, "I like the fact that you've referred to me as an author!" The reason I've described him as such is because his first novel is out this week. But he's excited to be referred to that way because, of course, he's better known as an actor – as Thorin, the dwarf king in Peter Jackson's The Hobbit trilogy; as Lucas North in the BBC spy drama Spooks; and for other scene-pilfering roles, from Dawn French's The Vicar of Dibley to Chekhov's Uncle Vanya and, earlier this year, the darkly erotic Netflix drama Obsession.
The reason Armitage is cooing is because I've asked him, like I ask all the writers I interview, to describe his book, which he does, neatly, thus: "Geneva is a destination crime thriller that centres on a Nobel Prize-winning scientist who is drawn into a crime of which she is the victim but doesn't realise it".
But the backstory to the backstory is intriguing, too. A prolific and very popular narrator for Audible, Armitage was asked by the giant online audiobook store if he would like to write his own: "They said, 'Would you be interested in writing a crime thriller?' I was, and they immediately said the word 'ghostwriter'. But I insisted that if I was going to speak the words [reading, inevitably, the audiobook] they were going to be my words, every single one of them."
It was a risk – "I got to play director, I got to play all the characters, I got to play the architect of the world I was building; and, actually, it could have been a huge failure." But the 51-year-old's background gave him confidence to create a plot and people. "My work as an actor means I'm always imagining myself on the inside of characters, and the training at drama school sometimes borders on studying psychology. Then there's all the things I've gathered along the way, working with script editors to structure a story, seeing what gets cut and what remains – that's been very, very useful."
And has he had any personal experience of dealing with dementia, gaslighting, or someone trying to steal his life – all elements of the book's gripping and adroitly told story? "No personal first-hand experience," he says, "but every actor looks at some other actor's career – especially if they've gone up for the same role and the other guy gets it – and says, 'That was supposed to be my part'. I've certainly watched other people and gone, 'I would kill for your career'. It's a very common phrase..."
Who is Armitage's acting nemesis, then? "Sometimes your agent will send you a script, and it'll have someone else's name on it, and then you realise, 'Oh, they've turned this down'. I would get scripts with Jude Law's name on them, or Eric Bana's."
So if anything unfortunate happens to either of them, we'll know who's behind it? "Indeed! But no, I usually just think, 'Oh well, if Jude doesn't want that role, I'll do it'. I'm a 'yes' man: I love going to work so I don't say no to very much."
What about playing Bond, as Armitage is one of the names regularly mentioned in connection with the 007 role. "Oh, every three weeks there's a newspaper story about that. My nephew still asks if I'm going to be James Bond, and I say 'No. You just read it in a paper'. It's an amazing role, but I'm probably more likely to be tempted towards playing the villain."
Meanwhile, there's already a movie adaptation of Geneva to think about. "Sony are going to adapt it with me, but I can't yet tell you who will be the star. I don't want to tempt fate, but the book is currently in the hands of my dream actor for the lead role. She's reading it now..." And to direct? Would he like to hire, say, Peter Jackson? "I would. I feel like he really opened out the world of The Hobbit, and that Tolkien would have loved it. Though Peter would probably want to make Geneva in 3D with a massive centrepiece and a fantasy element. He loves all that."
Armitage could certainly be forgiven for being precious about his debut novel, especially considering how hard he worked to get it written. "I started writing it in my Winnebago in Manchester on the set of Stay Close [the 2021 Netflix miniseries based on Harlan Coben's novel]. Then it was in a hotel room in Seville, then in Madrid, then in Rome at weekends when I was shooting [2022 conspiracy thriller movie] The Man from Rome.
"There were also many, many long-haul flights backwards and forwards from New York, and I finally finished it on the set of Obsession."
There was pleasure too, though: "I went to Geneva on a little road trip right at the end, just to go back and fill in some details – that was one of the best parts of the job. But I also really loved those times beavering away at 3am on a plane while everyone else was sleeping or watching Marvel films. I just love telling stories."
ED GRENBY
Whether you're looking to start a good reading habit or just wanting to treat yourself, a friend or a family member, the RT Book Club is the gift that keeps on giving!
* To receive this month's choice, Geneva by Richard Armitage, for £14.99 (incl p&p), sign up now.
---