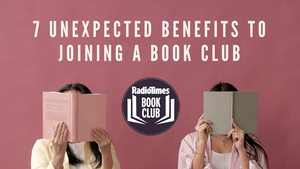 A novel idea – 7 unexpected benefits to joining a book club
Is your new novel not exactly a page-turner? Are your fingers spending more time scrolling on screens than flicking through pages? Well, clearly a book club is for you.
No, not the Book Club film about 50 Shades of Grey – but an actual book club, complete with specially selected books, the chance to discuss with other members and even an overall saving on the price.
Everyone knows that book clubs help motivate you to do the reading and help you make new friends – but a good book club can be a gateway to so much more, and impact the most unexpected areas of your life.
The RT Book Club has been running since 2019 and featured over 40 books to date, many of them signed or with signed bookplates.
Each book is a new release especially selected by the RT team for our readers, which can be enjoyed on a monthly or quarterly subscription to suit your reading speed.
3-month and 6-month trial membership options are also available either as a gift or to try the club out – but if you're still unsure there are plenty of reasons to give a book club a go and benefit your life in the most unlikely of ways.
Book settings may well become your next travel destination
Book clubs can do far more than enrich the mind – and may well stimulate all your senses by influencing your next choice of holiday destination. Sure pilgrimages to film locations are popular, but visits to book settings are also a common pastime, with Outlander, Angels & Demons and, of course, Harry Potter prompting fan trips all over the world.
Perhaps Julie Andrews' memoir Home Work will inspire your own journey to Hollywood? Jonathan Agnew and Phil Tufnell's Test Match Special might just tempt you to watch some international cricket live? Monty Don's latest book may just inspire you to visit our nation's many lovely gardens?
Reading isn't just a hobby, but a gateway to a whole new world – and in some cases, these new worlds might just become a reality.
Reading is good for the brain – in more ways than one
Hobbies don't need to be physical exercise to be healthy – and reading is one of the most mentally stimulating leisure activities out there. One study published in the National Library of Medicine has found a link between reading and structural brain development, while a Tohoku University study has found that seniors who read daily improved cognitive functioning and may even have a lower risk of diseases such as Alzheimer's.
It's not just your brain development that reading can benefit, but your emotional development also – a study by The New School for Social Research has shown that reading fiction increases your ability to empathise, as experiencing other perspectives in literature allows a heightened ability to understand how others feel in real life also.
Book clubs can broaden your horizons
Reading may give you new perspectives when it comes to understanding other people, but it can also open your eyes when it comes to the literary world. Book clubs are renowned as a way to explore new genres and styles that you likely would have overlooked, as well as providing the motivation to actually read this new selection rather than adding it to your backlog that you know you'll never finish.
The RT Book Club includes both novels and non-fiction books, and while several (but not all!) are linked to shows and figures from our TV screens they still cover a wide variety of genres, styles and topics. So from showbiz autobiographies to thoughtful novels to historical accounts, there'll always be something different to keep you on your toes – you may even find a brand new favourite that you'd never have considered in a million years!
Reading can lead to self-improvement
Reading more often obviously will expand your vocabulary and improve your grammar, but can also provide several unexpected benefits. Book clubs can boost teamwork and have been used by businesses across the world to improve efficiency, so are a sure-fire way to build relationships even if it is online.
Reading, of course, is also one of the best ways to improve your writing, which will come as a welcome relief to anyone who uses the skill in their line of work. It's also highly recommended for anyone who writes fiction in their leisure time, or may even be considering penning a novel – reading different styles, and then dissecting storylines, characters and writing choices with others is one of the best English Literature classes available as an adult.
Reflect not just on books, but society as a whole
While reading may seem to only offer immediate benefits to your writing and vocabulary skills, it is one of the rare hobbies that can provide you with an education not just in the realm of words but about the entire world. Depending on the book topic you may find yourself pondering politics, debating history or reflecting on society at large, all from the comfort of your living room.
Going online to the members' discussion area can then open your eyes to interpretations you hadn't even considered, and provide you with perspectives from all over the country.
Socialise with ease online
The RT book club has an exclusive members' discussion area to allow you to share your thoughts online about each month's book. This of course allows you to socialise with others who share your passion, prompting potential friendships and deep conversations, all within an exclusive community where you can feel free to reach out for any queries or issues you have with the book at any time.
As an online book club, this may be a better option for anyone who might be nervous about discussing books in person in front of large groups and eases the pressure by allowing you to reply and formulate your opinions at your own pace. Best of all it is far easier to invite guest speakers to online book clubs – we often have exclusive webchats with the authors themselves, as well as signed copies!
A break from life – and stress
Don't forget that after all reading is meant to be fun! Books are a fantastic way to temporarily take a break from real life and retreat to a more idyllic literary world and have long been used to help combat stress – especially before bed, as The Mayo Clinic recommends to aid restful sleep.
Reading is also a great excuse for a snack or maybe even a glass of wine or two – perhaps you could even make your food themed?
Sign up to the RT Book Club now on a monthly or quarterly subscription to suit your reading speed.

Join today and each month or quarter we select a book that we think our readers will love, and deliver - for free -  giftwrapped to your door.

If you do not wish to pay via paypal, you can call us on 03302 232 639 to join the Book Club.
---