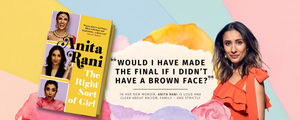 In her new memoir, Anita Rani is loud and clear about racism, family – and Strictly
Nearly six years on from her run to the semi-finals of Strictly, there remains a question in Anita Rani's mind. "I still find myself wondering whether I would have got into the final if I didn't have a brown face," she says. It's not just Strictly, either. "There are various points in my career where I wonder what would have happened if I was blonde-haired and blue-eyed, and sometimes I don't think things would have played out the same way if I was white. I've put that Strictly question into my book to leave people pondering, because I'm just not sure."
Rani's memoir, The Right Sort of Girl, certainly isn't your usual anodyne celebrity autobiography ("It felt important to talk about something meaningful rather than just 'And then I moved to London and I got a career in telly and I lived happily ever after'"). Written largely in the form of a letter and lessons to her younger self – chapter headings include Families Are Never Simple, You Can Love Home But Also Desperately Need To Leave, and You Will Party, Whether You're Allowed To Or Not – it feels refreshingly spontaneous and unfiltered. "That's because it was an outpouring," she confirms. "I can't believe how much I wrote. I obviously had a lot to get off my chest!"
The breezy, no-nonsense style that's endeared Rani to audiences on Countryfile and Woman's Hour runs through the book, too. "I was just writing it for myself," she explains. "I wasn't really thinking about it being published – which is why I'm so petrified at the moment. I'm sick-to my- stomach nervous, because my life, like everyone else's, is complicated and messy. And the reader I was most nervous about was my mum. But I've spoken to her, and said, 'Look, I'm going to say all this stuff ', and she said 'Say it. Because I never could.'" Rani's very aware of giving a voice to those who find theirs stifled. "This book is especially for those South Asian kids who've never heard their story told, and particularly young girls. But it's also for people who've never had access to this world I grew up in, so they can understand what it means to be a Punjabi lass from Yorkshire.
Hopefully it's a universal story that anyone who's ever felt outside anything will relate to. And that's pretty much every woman, for a start." If she sounds angry, she explains, that's because she is. "I'm a TV presenter, so of course I'm normally upbeat — who wants to see a miserable old git doing Countryfile? — but there are definitely burning flames in the pit of my belly. How can there not be, how can we live in this society and not be angry with what's going on around us? "I'm fuelled and driven by how we women, and particularly women of colour, are constantly told not to be angry, how when we're cross about injustice, it's flipped around so that we're the problem." Rani won't name names, not out of cowardice but because there are too many to mention.("I've worked for every single channel, and this is an industry-wide problem," she sighs.)
Amazingly, she retains a sense of humour about it: "When people talk about diversity, I'll always say, 'You're absolutely right. I'm often the only northerner on the show!'". And, joyously, she recounts how fans of two of the BBC's more traditional shows have embraced her. When I started on Countryfile," she says, "I would get the odd person who felt the need to tell me what they thought about me being on their favourite programme, the odd racist comment, the odd sexist one; but generally people have been really receptive. And with Woman's Hour, too. It's so grown-up, so Establishment, it's the heart of the nation. For a while, I thought, 'What am I doing here? Are they sure they want me?'. But I've had so many people come up and say, 'We're delighted to have a voice that reflects us on there.' "I'm the same myself," she continues. "I still rush excitedly over to the telly if there's someone Asian on it. And that's why seeing a brown lass doing all right on Strictly meant such a lot to Asian people. It's a national institution, and you don't see many brown faces on it, certainly not many that do well."
Defeat still rankles – "Nobody is happy when they're voted out, let me tell you. It doesn't matter who you are, that hurts" – but Rani just might have found a way past that. "I often think about doing it again," she muses. "That would be great: going back and winning it this time."
ED GRENBY
To receive this month's choice, The Right Sort of Girl by Anita Rani, for £14.99 (incl. p&p), sign up to the RT Book Club now on a monthly or quarterly subscription to suit your reading speed — and enjoy free delivery with your book sent gift-wrapped to your door.
To order The Right Sort of Girl for £16 including p&p without joining the RT Book Club, click here or call 03302 232 639*  
---